Dissolved Air Flotation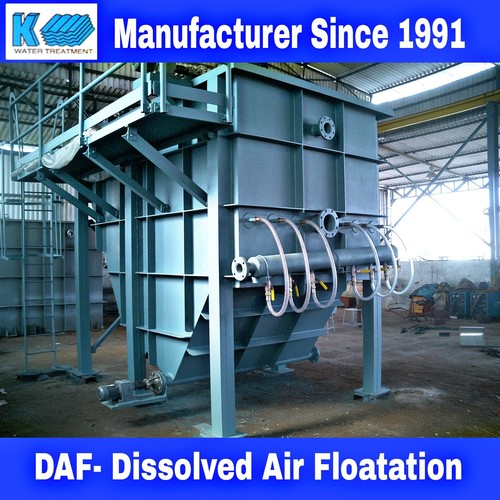 Dissolved Air Flotation
Price And Quantity
Product Specifications
Mild steel with epoxy paint/ Stainless steel

FRP PLATE PACKS
Oil-water separation, suspended solid separation

Effluent Treatment Plants
DISSOLVED AIR FLOTATION

AC
2*1*1.3 Meter (m)

2800 Kilograms (kg)
BLUE

12 MONTHS FROM THE DATE OF COMMISSIONING
Product Description
Dissolved air flotation is one of the most effective methods whose specific gravity is close to 1.0 from the water.Dissolved Air Flotation is liquid/solid or liquid/liquid separation process to remove tiny suspended solids that density close to the water, colloid, oil, and grease etc. K-Pack systems dissolved air flotation is an innovation combined with traditional dissolved air flotation concept and modern technology.

WORKING PRINCIPLE-
DAF dissolved air flotation consists of flotation tank, dissolved air system, reflux pipe, dissolved air released system, skimmer (Based on customer needs, there is combined type, traveling type and chain-plate type to choose.), electric cabinet and so on.

Air flotation separation technology of K-Pack systems dissolved air flotation dissolves air into water at certain working pressure. In the process, pressurized water is saturated with dissolved air and is discharged into a flotation vessel. The microscopic air bubbles produced by released air attach to suspended solids and float them to the surface, forming a sludge blanket. A scoop removes the thickened sludge. Finally, it complete purifies the water.

Air flotation technology of DAF dissolved air flotation plays an important role in solid-liquid separation (Simultaneously reduce COD, BOD, chroma, etc). Firstly, mix flocculating agent into the raw water and stir thoroughly. After the effective retention time (lab determines the time, dosage and flocculation effect), the raw water enters into the contact zone where microscopic air bubbles adhere to the floc and then flows into the separation zone. Under the buoyancy effects, the tiny bubbles float the flocs to the surface, forming a sludge blanket. A skimming device removes the sludge from the sludge hopper. Then the lower clarified water flows into the clean-water reservoir through the collecting pipe. Some of the water is recycled to the flotation tank for the air dissolving system, while others will be discharged.
USE-
In the food industry, petrochemical industry, oil industry, paper and pulp industry, tannery, automobile industry etc.
The aim of dissolved air flotation is to separate the fine suspended solids in water, algae, and micro-floc. And dissolved air flotation can be used in the following industries:
Separate or recycle waste oil or grease in: oil exploration and refining, biodiesel, machining, food production and catering and so on.
High concentration organic wastewater treatment: paper, printing and dyeing, textile, leather, pharmaceutical, fermentation wastewater and so on.
Biochemical effluent liquid separation: the anaerobic effluent solid-liquid separation, aerobic (activated sludge process, contact oxidation, filter) biochemical water solid-liquid separation, the secondary settling tank Effluent treatment and so on.
Farm and slaughterhouse wastewater treatment: cattle, pigs, chickens farm, slaughterhouse wastewater.
Manufacturing waste: electroplating, painting, etc.
Purification: river, landscape, recycle water and so on.
Product details
| | |
| --- | --- |
| Reatment Technique | Air Saturation |
| Quantity Of Water To Be Treated | 100 Litre,All,400 Litre,300 Litre,200 Litre |
| Applicable Industry | Oil Refining Industry,Chemical Industry,Food Industry |
| Usage/Application | Free Floating And Emulsified Oil Removal And Tss Removal |
| Type | 50 M3/H,1000 M3/H |
| Treatment Capacity | 500 M3/Hr,All,2500 M3/Hr,1500 M3/Hr,1000 M3/Hr |
| Water Source | Industrial Effluent |
| Air Flow Rate(M3/H) | All |
| Automation Grade | Semi-Automatic,Fully Automatic |
| Industry | Sugar Industry,Slaughter House,Automobile,Chemical/Petroleum Industry,Leather Industry,Paper Mills,Distillery,Pharmaceutical Industry,Dairy Industry |
| Installation/Civil Work | Installation Available |
| Filtration System | Air Saturation |
| Tank Diameter | Varies With Flowrate |
| Installation Service | Provided |
| Treated Water Quality | 95% Reduction |
| Plant Type | Plug And Play- Containerized |
Trade Information
Telegraphic Transfer (T/T), Cash in Advance (CID), Cheque, Cash Advance (CA)

1 Per Week
1. Special logistics packaging

Western Europe, Australia, North America, Eastern Europe, Middle East, South America, Asia, Central America, Africa